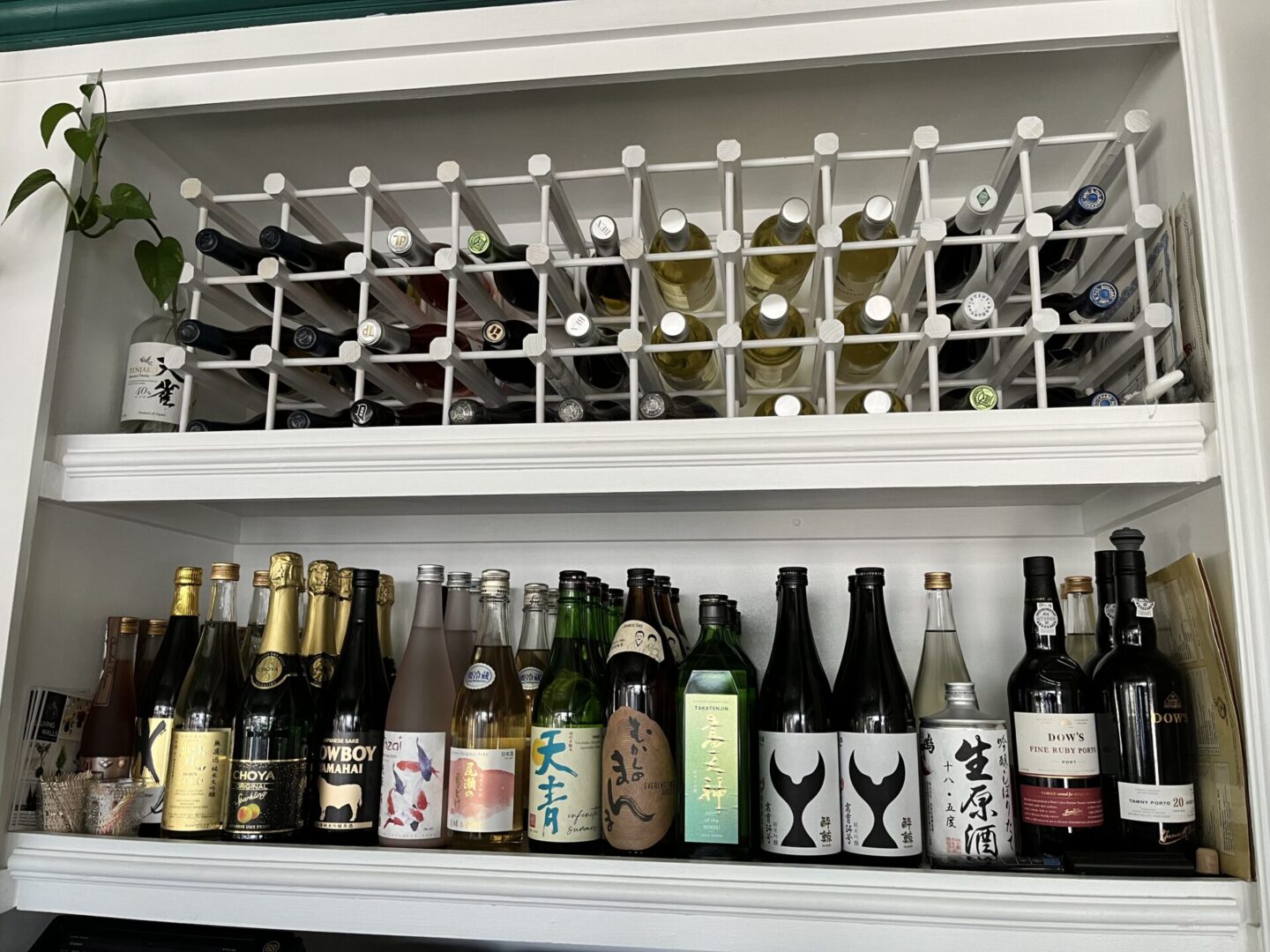 Voss Still Water 800ml
Voss Sparkling Water 800ml
Pink Flamingo - watermelon lime
Ging & Juice - ginger/apple/lemon/fizz
Herb Your Enthusiasm - blueberry/yuzu/basil fizz
Pineapple Express - pineapple/coconut/serrano
Tea Service for Two - kombucha green/classic green/chamomile/peppermint/earl grey
Iwatekura Japanese "Sansho" Ale
Aroma of pale malt, quite floral, pepper, lemon and orange citrus; quite herbal. 5% ABV

Kizakura "Lucky Cat" White Ale
Brewed with Japanese citrus "Yuzu" and Japanese pepper "Sansho"- fruity citrus aroma with a hint of spiciness and a modest bitterness from Saaz hops 5% ABV

Kizakura "Kyoto Matcha" IPA
Brewed with "Matcha (green tea)" from "Uji" region in Kyoto; rich in body, comfortable finish with bitterness from green tea and hops, with a very refreshing citrus aroma. 8.5% ABV

Iwatekura "Oyster Stout"
An impressive beer; stout brewed with real oysters (shells and all) from Japan. It's clean, with flavors of chocolate, biscuit, earth, cream, soft black pepper. 8% ABV

Ginga Kogen "The Plateau of the Galaxy"
Ginga Kogen is a "Hefeweizen" style beer, brewed with more than 50% of wheat malt. Distinguished by its richness, fruity aroma and pale color. 5% ABV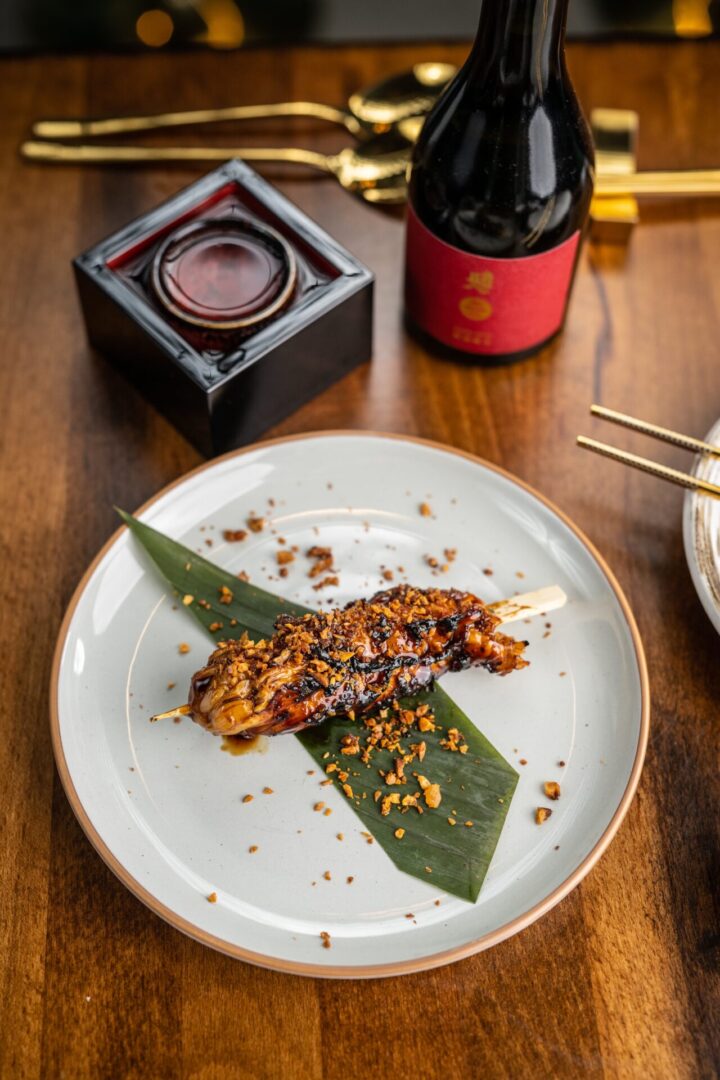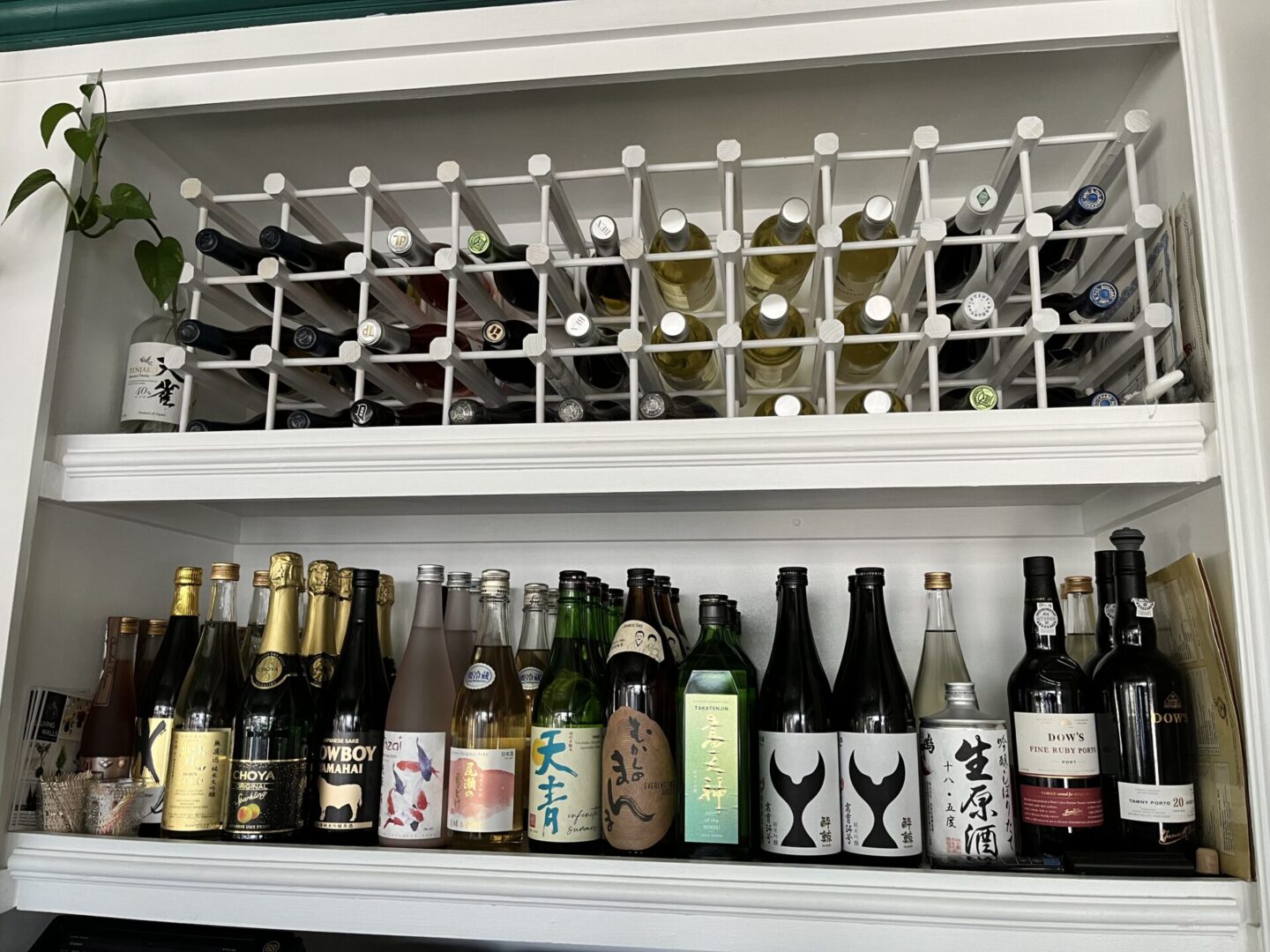 Sparkling Sake & Plum Wine
スパークリング酒 & 梅酒
Plum wine, known as umeshu (梅酒) in Japanese, is a beloved alcoholic beverage in Japan. It's made from green ume plums, and the flavor is a great combination of sweet and slightly tangy.

Choya Sparkling Umeshu 187ml
The perfect balance of sparkling wine and tart Japanese ume, with backnotes of citrus and white peach

Nihonshu de Tsuketa Umeshu 500ml
Japanese Plums are marinated in Sake made with the rare Omachi Rice. The combination of umami from the sake and the acidity from the plum create an unexpected harmony.

Tsukasabotan Yama Yuzu Shibori 720ml
The nose on this gentle Yuzushu (Citrus sake) is a splendid collection of lemon peel, honey, fresh lemonade, elderflower, and sugar aromas.

Junmai, Honjozo, Tokubetsu 純米 - 本醸造 - 特別
Junmai/Honjozo is made with rice that has been polished (milled) so that at least 30% of the outer portion of each rice grain has been ground away. The taste profile is usually a bit richer and fuller than other types, and with pronounced acidity.

Maneki Wanko "Lucky Dog" Junmai Genshu 180ml
Aromas of melon and plum, and rich texture with flavors of Asian pear, banana and almonds. SMV +6; 18% ABV
Ginjo & Junmai Ginjo
吟醸 & 純米吟醸
Made in a very labor-intensive way, fermented at colder temperatures for a longer period of time. The flavor is more complex and delicate, and both the flavor and the fragrance are often (but not always) fruity and floral.
Narutotai Namagenshu Ginjo "Drunken Snapper" 720ml
Flavorful type. Gorgeous, sweet and fruity aroma, impactful, dry, followed by great acidity SMV +5; 18.5% ABV
Shiokawa Yamahai Junmai Ginjo "Cowboy" 720ml
Aromas of cocoa and smoke with a rich and smooth finish SMV +3.5; 16.9% ABV
Kawatsuru "Olive" Junmai Ginjo 720ml
Made with yeast extracted from the Sanuki olive native to the region, this is a hyperlocal sake. Juicy notes of musk melon, white flowers and green pear with hints of starfruit, grass and salinity. SMV -7; 14% ABV
Suigei Koiku "Drunken Whale" Junmai Ginjo 720ml
The savory tones are enhanced by slightly citrusy flavors that yield a clean, refreshing finish. SMV +6.7; 16% ABV
Daiginjo & Junmai Daiginjo
大吟醸 & 純米大吟醸
Very highly polished rice to at least 50% and even more precise and labor-intensive methods. The pinnacle of the brewers' art. Generally light, complex and fragrant.
Katoukichibee Shouten Born "Gold" Junmai Daiginjo 720ml
This is a "muroka," which doesn't go through any refining treatments, keeping all the fine flavors and aroma intact. Lively aromas of green apple, peach with gentle yet complex notes of pears and citrus.
SMV +1; 15% ABV

Katoukichibee Shouten Born "Chogin" Junmai Daiginjo 720ml
This sake is served at the Imperial Court and is partly what brought Katoukichibee Shouten fame during the Showa period. The fruity aroma of ripe melon, banana, pineapple, and papaya fills your palate.
SMV +2; 16% ABV

Dassai "23" Junmai Daiginjo 720ml
With a nose of grapes, flowers, strawberries and mineral water the flavor is as luscious as the aroma. Look for hints of brown sugar, fleshy plums and minerals. SMV +4; 16% ABV
Commonly referred to as "unfiltered" sake, nigori literally means "cloudy," and refers to sake that still contains rice solids that have not fermented. Most tend to be creamy and sweeter than clear sakes.
Tozai Snow Maiden 720ml
Bright and fresh with a lovely ricey and fruity combination. Flavors of honeydew melon, raw pumpkin, and radish. Creamy texture and full body. SMV +6.5; 14.9% ABV
This type of rosé sake uses ancient red or black rice. They use the polyphenol from the rice to add color to the sake.
Ryujin Shuzo Ozé X Rosé 720ml
A lovely rose-colored sake that exists within a sphere of balance between sweet and tart, and has a flavor that resembles wild strawberries.
SMV -33; 12% ABV
Glass Graham Beck Brut - South Africa
Graham Beck Brut Rosé - South Africa
Larmandier-Bernier "Latitude" Blanc-de-Blancs - Champagne France
Billecart-Salmon - Brut Champagne France
Laurent-Perrier Brut Rosé - Champagne France